Discover more from Score Secondary
North American Soccer Commentary and History by Joe Bush
MLS Watch Grid for April 29-30th, 2023
A #1 vs #2, a few matches of optimists, and I finally find the place to put my observation about the Rapids and Whitecaps' logo histories
Last weekend was one of the better weekends of Major League Soccer that I've watched this year. It was so good, I didn't even care that much that everyone wore the same two colors. We have a rare #1 vs #2 matchup on the docket for this Saturday, a bunch of matchups between teams who are both starting to feel good about themselves, and everybody will once again be wearing their normal uniforms, so I'm optimistic!
Window 1: 12:30pm
Window Winner: Atlanta United FC at Nashville SC
Nashville, though they are still not playing a style that draws me to watch them every week, seems to be trending upwards. Last weekend, they managed to make LAFC look human – It'll count as a 1-1 draw, but I have stopped personally taking Denis Bouanga goals into my consideration of the teams he scores on because he's operating at an unreasonable level of unstoppability at the moment. LAFC could line up against a team consisting of a single 8' by 24' wall of bricks positioned in front of the goal and he'd still manage to get two or three the way he's been going, so only giving up one is something of an admirable feat. I might be ready to call Nashville good again, though there are many steps they'll need to take before I call them exciting to watch again (the first is scoring more than one goal in a match, the second is somebody other than Hany scoring, the third is some kind of incident, violent or romantic or otherwise, between Tempo the Coyote and an opposing player). Atlanta proved last weekend against Chicago that they can even make lazy Sunday afternoon 1-0 walkovers interesting. 
In fact, this is a rare instance in which the most volatile team in MLS (31 GF+GA) takes on the least volatile team in MLS (13 GF+GA). We'll see who wins, can Atlanta crack Nashville's shell of pragmatic defense, or will Nashville reduce Atlanta to stalwartism. I personally would like it to be the latter, given that it's the only game in that window.
With their win over Chicago last weekend, who earned the title by defeating Minnesota on April 8th, Atlanta currently stands as The Soccer Capitals of the United States™
Window 2: 6:30pm
Free Window Winner: Charlotte FC at DC United
This will take a bit of a sale, but I think we've finally seen both of these teams begin to trend upwards in recent weeks: Charlotte FC got something of a signature home win last week, beating a Columbus team I consider one of the best in MLS while holding their prolific attack scoreless. DC United is on a two-match road winning streak, scoring three against an Orlando City team that I am going to stop paying attention to until they give me reason to look at them again. We have two teams that are feeling good for the first time this season at Audi Field on Saturday evening, the big stars on both teams in Christian Benteke and Karol Swiderski both scored last weekend, and both teams are prone to giving up a lot of goals as well, so there's some potential for this one to be entertaining for free viewers.
Game of the Week: FC Cincinnati at New England Revolution
For the first time in the 2023 season (and I went back and checked to see if this had happened really early on, like if Miami/Philadelphia or Seattle/RSL from Week 2 technically fit this category taking GD and GF into consideration, and it did not)1 we have a matchup between #1 and #2 in the Supporter's Shield standings! It's between two teams that I don't think many were expecting to find themselves this high up in the standings – certainly both were expected to be good, but not this good – and it's surrounded with a surprising amount of intrigue external to the actual match on the turf at Gillette Stadium on Saturday night, which should be entertaining enough as it is! Will FC Cincinnati play Brenner, now set to depart for Serie A's Udinese in the summer, on the turf? Who from New England's unexpectedly deep roster will get the chance to play hero this week (it was Giacomo Vrioni and Ema Boateng last weekend)? 
Both of these teams have figured out the quick-fix secret lifehack to building a competent MLS team, in that they decided to pay for good center backs (I knew somebody would click on those "Don Garber HATES Him! How This Man Figured Out One Simple Trick To Not Losing Quite So Many MLS Matches" banner ads I had running on BigSoccer for so many years), so I don't expect an explosive goal scoring bonanza, but know that every goal will need to be earned against solid defensive structures and good goalkeepers. The Revs look to have a number of the players they lacked in their 2-1 win over [YOU WILL GET A NAME WHEN YOU BEAT AN MLS TEAM] last weekend back, important ones like Gustavo Bou and DeJuan Jones, Cincinnati has Lucho Acosta back from the injury he had in his shoulder and Brandon Vazquez back from the injury he had in his goal-scoring apparatus.2 This should be a good one, a pivotal one, you might see this one played out again in the Eastern Conference Final!
Window 3: 7:30pm
I Cannot In Good Conscience Recommend You A Match In This Window
I really try not to be cynical in these posts, but I don't know that there's a single great choice in this window. I know that there's a bad choice, it's the one I'm going to make (I will make my choice at 6:00pm on Saturday on whether I want to get a cheap ticket and drive out to Children's Mercy Park for that match or not, but I'll watch on TV regardless), but of the eight teams playing at 7:30pm on Saturday, four of them take up positions in the top 5 of my Least Excited To Watch Them Play Power Rankings
[NAMELESS]

Portland

Minnesota

Red Bulls

Montreal
Austin might be sixth there, if there weren't still some interest I take in watching them struggle through being so much worse than they expected themselves to be, they'd be higher. I can't even say that the Montreal/[UNNAMED] match will be entertaining in a perverse sense unless you enjoy slow pans over the anguished faces of the members of the Cauldron and the knowledge that I don't like what's happening in front of me (You won't be able to pick me out if I am there, I'm gonna do a light fan protest in which I wear a bucket hat Gregg Alexander style, and if we're still winless by the Minnesota game I will do the paper bag method. I suppose that you'll know I'm the guy wearing a bucket hat Gregg Alexander style now that I've just told you that). 
Actually, what I'll do for this window is tell you why each of these games won't be fun to watch, and you can pick the one that you find least odious:
San Jose Earthquakes at Austin FC: Austin wants to play so beautifully but just cannot do it. Their spirit was crushed to the sounds of one song on repeat for 90 minutes down in the Dominican Republic. I could see it turning at some point, but their presence as it stands is only interesting for external reasons, not anything regarding their play on the pitch. Any intrigue the other team presents is diminished severely by Austin's ineptitude and we're to the point where I will feel no schadenfreude if they are beaten embarrassingly.
Red Bull New York at Chicago Fire FC: The Red Bulls are hard to root for and even harder to watch as a neutral. They match all of their external stuff, the racial slur incident with Dante Vanezir and Gerhardt Struber's decision not to sub him off because of it, with boring and at this stage not even all that capable soccer on the pitch. Chicago is fun, but the Red Bulls' style of play is in this odd place, in which they can turn you over with pressure but not do enough with it to make anyone happy.
Feet Club of Montreal at [ANONYMIZED FOR WRITER'S PROTECTION]: Montreal is finally finding ways to win matches, which is obviously more than we can say for their opponent, but the lack of inspiration from the home team here so far this season is at this point just kind of pitiable. Unless you're the one guy on the SomethingAwful Forum MLS Game Day Thread who intensely despises us still (and by us, I mean us in the stands moreso than the team itself) for Tim Melia's sins, this ineptitude is hardly even entertaining.
Portland Timbers at St. Louis CITY SC: I expect St. Louis to dispatch the Timbers relatively easily. Outside of that one win against Seattle, Portland has played stagnant, uninspired soccer all year to this point. 
Window 4: 8:30pm
Window Winner: Seattle Sounders at Real Salt Lake
The RioT's not quite yet back for several reasons, first being that it's not the RioT anymore, it'd be the AmeF under those nicknaming conventions, and I'm not calling it that. I'm choosing to call it "America's First Field", which is just flatly incorrect, and I find that funny. I don't know where the first field in America was, but I guarantee you that it wasn't in Sandy. Anyway, for more recent MLS fans Real Salt Lake's home stadium used to be one of MLS's real fortresses. There was a period from May 2009 to May 2011 wherein they only lost one match at home, and it was the Concacaf Champions League final. They've had a rocky start to the year, but they've dominated their last two home matches against Charlotte and San Jose, getting a goal and an assist out of YoungMoney Initiative signing Andres Gomez in the last one. 
This Saturday, they'll welcome in a Seattle team that sits at second in the Western Conference. Seattle dropped them up at the CLink (the LFiel? That's worse than the AmeF.) back in early March, but a win at home might cement RSL as a genuinely pretty good Western Conference team, at least a playoff spot contender, and it might get me to believe that, under several conditions and heavy consideration and written in pencil… The RioT is back. The AmeF. Whatever.
Window 5: 9:30pm
Artisan's Choice: Colorado Rapids at Vancouver Whitecaps FC
This matchup is one of my favorite dumb little oddities about MLS. Here we have two teams named for regionally significant aquatic geographic phenomena, both of which were at one point represented in their logos, only to be replaced by mountains.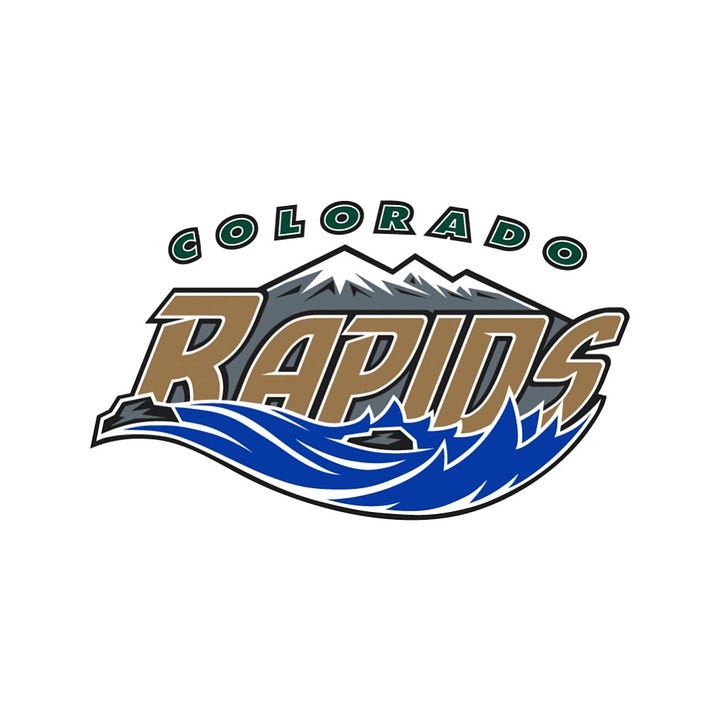 The Rapids started off with a logo that featured both a prominent mountain and a prominent rapid, then they switched to a logo that really only featured a soccer ball, and now it's a mountain and a soccer ball. The Whitecaps… oh, this is an entirely different sidebar – If anyone wants to get into the semantics of if we consider the current Whitecaps a continuation of the original 1974 Whitecaps or the original 1986 86ers, please feel free to do that in the Substack comments – but the original NASL Whitecaps used the iconography of a whitecapped wave, which was repeated when they took on the Whitecaps name again as a member of the A-League in the early 2000s. They abandoned the wave in favor of a mountain when they joined MLS in 2011.3 So, we have a matchup of two teams with prominent mountain iconography that both used to have prominent water iconography.
They both play soccer, as well.
Colorado's become a trendy team to acknowledge in recent weeks. They're looking much better than they were to begin the year, they're actually riding a five-match unbeaten run (caveat being that they have only a single win during it), and they've managed to finally start finding the back of the net in recent weeks. Vancouver's quietly plugged along at a decent rate this season, riding a six-match unbeaten run containing two wins into this match. For I think the third time this weekend, I'm selling you this matchup as 'two teams that have been trending upwards'.
The artisanship of this match lies in the infuriating demon of successfully finishing chances. Last week, Colorado infuriated just about everybody by getting a comeback draw against St. Louis at home. The last ten to twenty minutes of that were seemingly dominated by the Rapids, who used the altitude to their advantage, saw St. Louis getting fatigued in the thin air, and launched a barrage of shots towards Roman Burki, all but one of which were saved. The match finished 1-1, but the xG differential was 2.61 to 0.88 in favor of Colorado. It's been a common problem for the Rapids this season. They've underperformed their chances. They haven't made a lot of them, according to AmericanSoccerAnalysis, they've set themselves up to score 5.05 more goals than they actually have. This is not actually the worst discrepancy in the league at the moment, the Red Bulls (5.42) and the Galaxy (5.19) have it worse. They feature two forwards in Darren Yapi and Jonathan Lewis who currently sit at fifth and eighth place in MLS respectively in terms of xG underperformance. 
They will go up against the undisputed king of underperformance at the moment, the xMVP, the anti-Bouanga, he of the broken goal-scoring apparatus, my favorite current MLS player until Tommy McNamara gets healthy again, the one the Whitecaps faithful call their Unfrozen Caveman Striker: Brian White. He leads the league in the xG-G category at 2.12. 
Anomalous stuff happens on that BC Place carpet after dark. Perhaps this weekend is when the regression to the mean begins, when both teams see goals start to flow like the water that used to have a place in their logos coming down the mountains that currently have a place in their logos.
Window 6: (Sunday) 8:00pm
Window Winner (By Default): FC Dallas at Minnesota United FC
Last week, I said that I'd effortfully avert my eyes from Minnesota if they were to lose, and I intend to hold myself to that standard – However, I cannot say that this won't be on television on Sunday evening, and you are free to view it if you'd like.
---
Who's Off This Week:
Houston, LAFC, and Philadelphia, you're all off! Go off and speculate about your NFL teams' exciting new top-ten draft picks! If you're a fan of both LAFC and the Chargers, I am curious about how you came to that decision. Everybody else, enjoy the soccer!
1
For LAFC fans eager to point out that you have the Points Per Game lead right now with a game, soon to be two, in hand, I simply offer the perspective that Galaxy fans did that for 20+ years trying to get us to consider their 1998 team the best in MLS history. You have the opportunity at this moment to separate yourself again from the Galaxy by not commenting about that. Will you seize it?
2
This is the body part that allows one to score goals. Many would assume this is the foot, but it's actually closer to the soul or the libido in concept. I was going to write "Goal Scoring Bone" there, but half of you would've been like "He didn't have a foot injury" and the other half would've asked if I were talking about another body part, and this is a family friendly Substack page.